"Poverty, Social Cohesion and Social Policy Challenges in OECD Countries"

Date and time: 16:00 - 18:00, August 1 (Thursday), 2013
Place: IPSS Meeting Room No.4, 6th floor, Hibiya Kokusai Building, 2-2-3 Uchisaiwai-cho, Chiyoda-ku, Tokyo MAP
        (TEL 03-3595-2984)

Lecturer: Dr.Monika Queisser (Head of the OECD Social Policy Division)
Abstract:
Monika Queisser is the Head of the OECD Social Policy Division that deals with issues of pensions, family and child policies, gender equality, income distribution and inequality, poverty, tax and benefit system analysis, social expenditures, and social indicators. In 2007-8, she worked as a senior adviser in the cabinet of the OECD Secretary-General. Prior to joining the OECD, she worked at the World Bank as a member of the pensions and insurance group. Dr. Queisser has written many reports and papers, including OECD's famous publications such as "Pensions at a Glance" and "Extending Opportunities: How Active Social Policy can benefit us all." In this lecture, she has discussed about the challenges of social policy issues in OECD countries especially after the economic crisis which hit some advanced nations.

*Presentation and discussion were in English. (Japanese translation was also provided).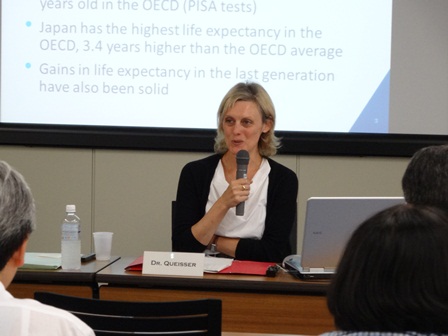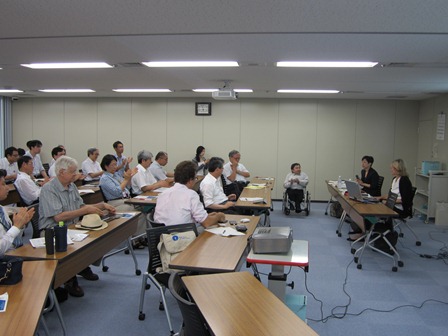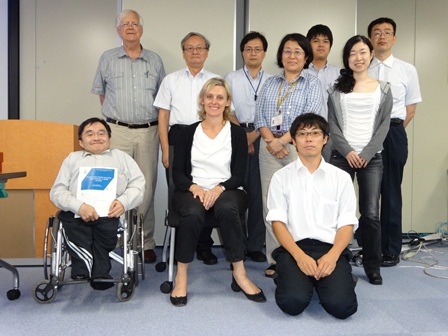 ---